Date of interview: Wednesday, 1/28/2015
I came here after hearing that the Kirimegawa Dam, which is under test flooding, is surcharged and overflowing. As I live in Aichi Prefecture, the route from Mie Prefecture is shorter in terms of driving distance, but since there are many sections where the expressway is not maintained, I visited the Hirogawa Dam and the Tsubayama Dam via the Hanwa Expressway from Osaka, and this was the third dam of the day.
View of the downstream face of the dike
The Kirimegawa Dam is located along Route 425, and the downstream face of the embankment can be seen clearly from the national highway. The stream crest is clearly visible with a good amount of overflow. We may never see this scene again in our lifetime. The freshly poured concrete is also dazzling white. The water intake system uses a continuous siphon system, which eliminates the need for an operation room, resulting in a very clean design at the top end.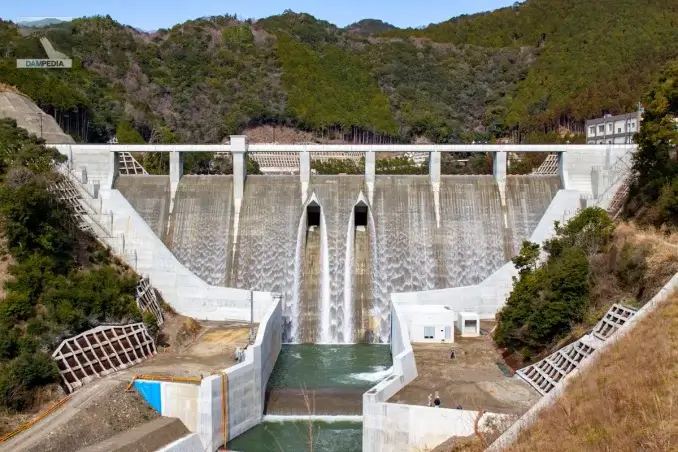 Speaking of the Kirimegawa Dam, in 2015, I designed a commemorative fan for the "Dam Anything" consultation room sponsored by the Japan Society of Dam Engineering and CMED, which used a photo of the Kirimegawa Dam.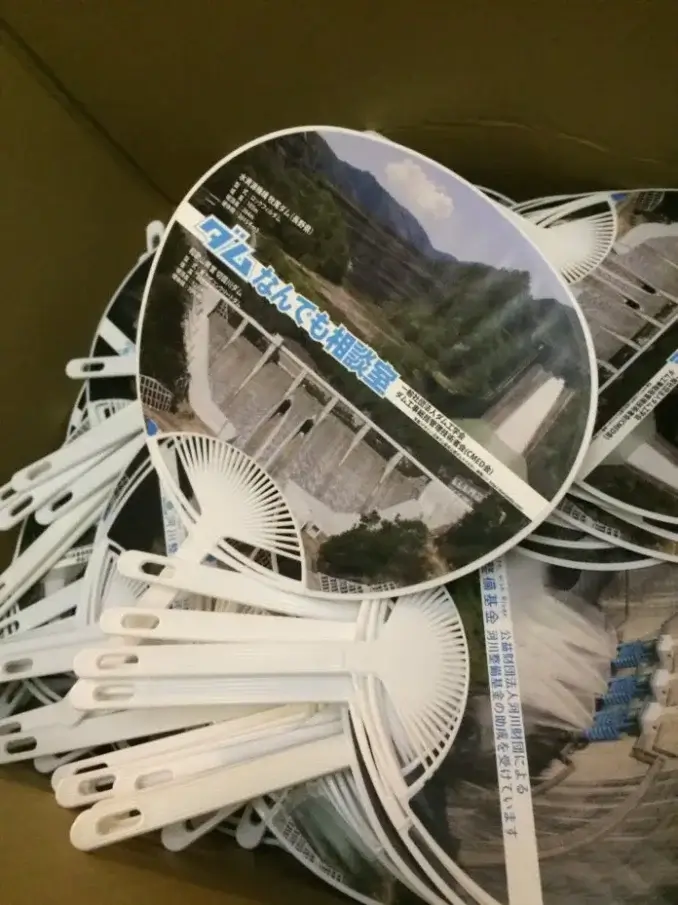 Downstream on the left bank is the entrance to an audit corridor and what appears to be a valve chamber. The valve room is thought to be for water diversion or river maintenance.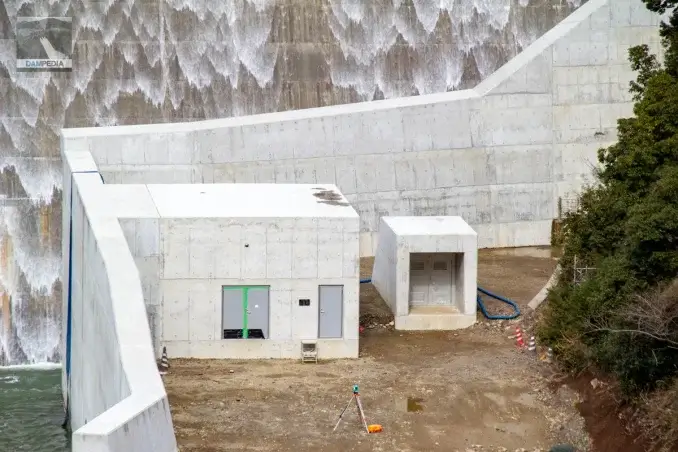 The abatement basin is compact because of the dike toe guide wall.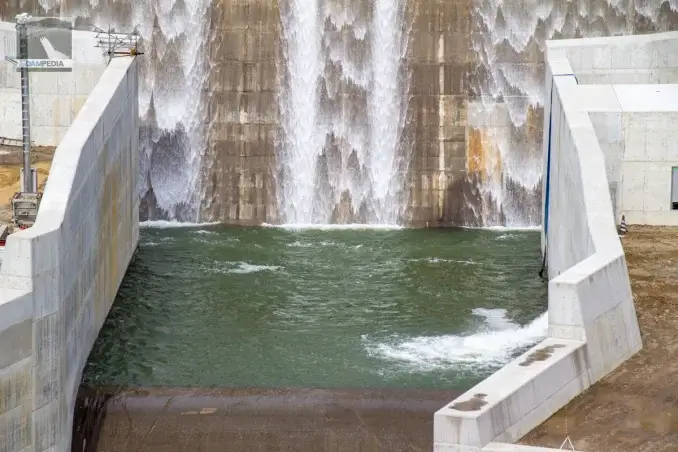 The orifice gate is dark and invisible due to the angle dropouts installed on the orifice gate in the test water. More importantly, the deflector is super sharply angled! As they say in Nagoya dialect, the deflector is "tokkin tokkin".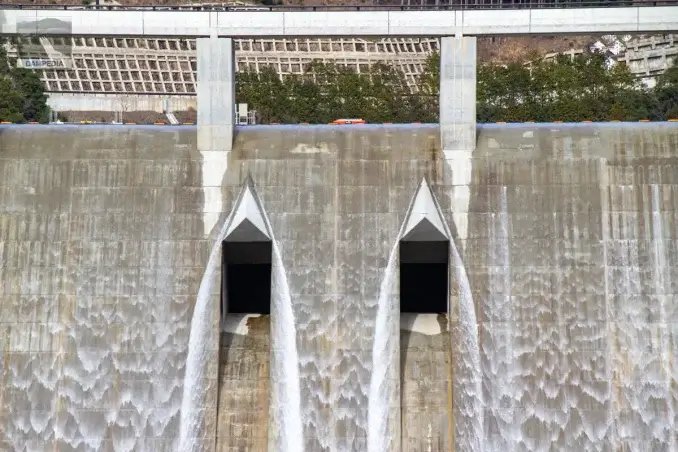 The magnified image shows even more "tokkin tokkin".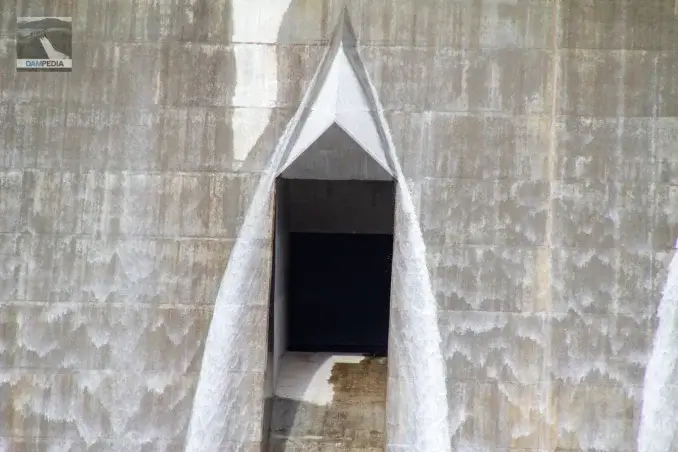 The dam is in the midst of maintenance, so it is not possible to visit many places, so the angles are similar, but this dam must be revisited.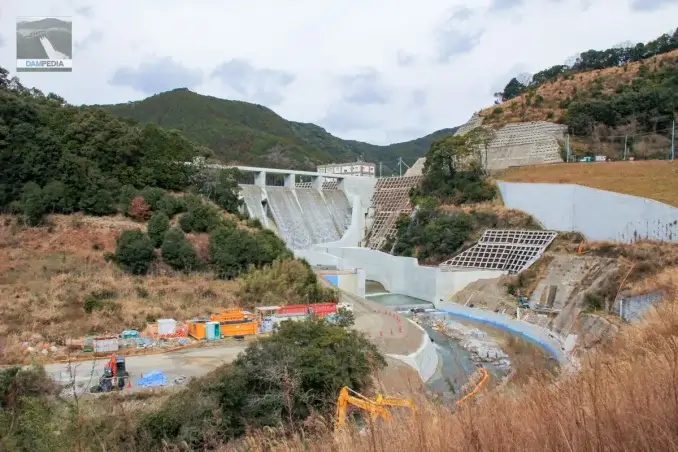 Neighborhood Maintenance
New public restrooms were also under construction.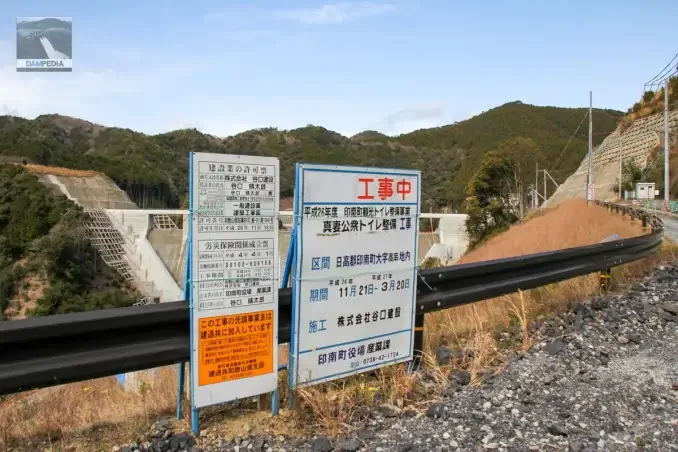 They are quite helpful as there are no convenience stores in this area. As a dam enthusiast, I am happy to hear that.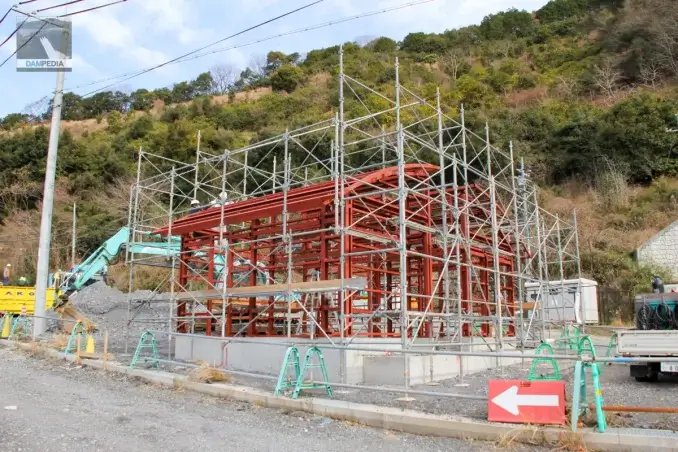 Downstream face of the dike again
A nice blue sky is now visible.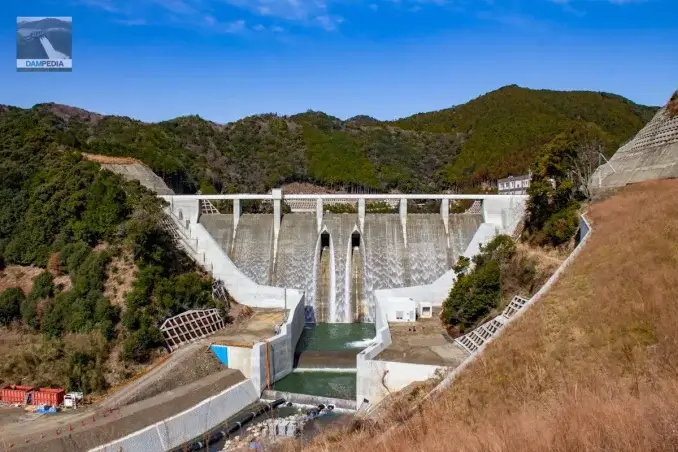 The Kirimegawa River basin has long been plagued by floods and droughts, and the Kirimegawa Dam was constructed to address both of these problems. The Kirimegawa Dam will continue to be an active and contributing dam for many years to come.
Kirimegawa Dam Specifications
Location
Takagushi, Inan-cho, Hidaka-gun, Wakayama
River Name
Kirimegawa River, Kirimegawa River System
Objective
F (flood control, agricultural disaster prevention)
N (unspecified water, water for river maintenance)
W(Water for water supply)
Model
G(gravity-fed concrete dam)
Bank height
44.5m
Bank length
127m
Dam volume
67,000 m3
Watershed Area
21.9km2
Reservoir area
30 ha
Total storage capacity
3,960,000 m3
Effective water storage capacity
3,410,000 m3
Dam operator
Wakayama prefecture (Kinki area)
Main body constructor
Kumagai-gumi, Asakawa-gumi, Ohana-gumi
Year of launch
2013
Year Completed
2015
Name of Dam Lake
Other facilities/observations
| | |
| --- | --- |
| Parking lot | ○ |
| Toilet | ○ |
| Park | × |
| PR Exhibition Hall | × |
| Fishing | ○ |
| Viewing platform | ○ |
Map around Kirimegawa Dam
Weather around Kirimegawa Dam
Accommodations that may be close to Kirimegawa Dam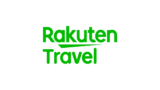 Hotel and inn reservations in Gobo, Arita, Kainan, and Hidaka [Rakuten Travel
Rakuten Travel, your source for hotel and inn reservations in Gobo, Arita, Kainan, and Hidaka! From popular business hotels and city hotels to ryokan (Japanese-style inns), we have a full lineup of hotel information, including customer comments!
4 hotels in Yuasa, Japan.
Book hotels in Yuasa, Japan online with huge discounts. We offer a wide variety of rooms with competitive room rates. You can choose the best hotel deals based on actual guest reviews.