Date of interview: 5/1/2005
Location: Odaicho, Taki County, Mie Prefecture
View of the top edge from the left bank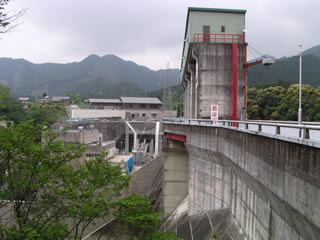 We had heard that the dam was devastated by Typhoon No. 21 that struck in 2004. We conducted our interview under cloudy skies that seemed to evoke such a past.
From the left bank, there is no change at all....
View of the dam lake from the top
The dammed lake is also quite normal.
Downstream view of the levee from the left bank
However, the downstream side looks terribly rough.
Incidentally, they were also just releasing the fish.
View of the conduit from the top edge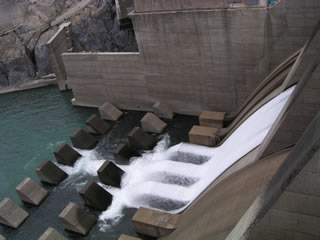 The water is being discharged in a smooth manner.
View of the gate from the top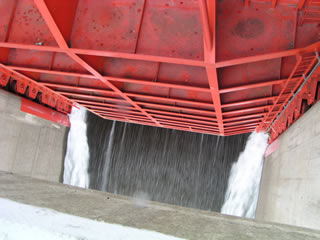 The red gate is impressive, but to even see the discharge....
View of the conduit from the top edge
The amount of discharge may be quite large.
View of the right bank downstream from the top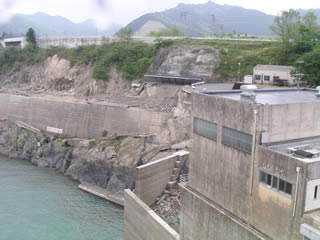 You can see that this side of the building was quite damaged. In the center of the photo you can see what looks like a shelter, but it was probably a bicycle parking lot or something. This means that it was probably a passageway, but it is gouged out and empty.
View from the top of the building View from the top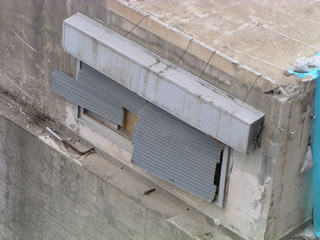 The building, which is believed to have been the administration office, is completely dilapidated.
View from the top of the building View from the top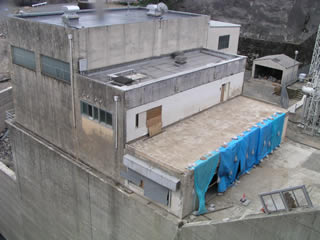 I would have liked to see more, but the rain was getting heavier, so I left and retreated!
dam characteristics
River Name
Miya River System Miya River
form (something takes)
Gravity Concrete
Objective
Industrial water, power generation
Bank height
39m
Bank length
160m
Dam volume
65,000m3
Watershed Area
190km2
Reservoir area
86 ha
Total storage capacity
13,100,000m3
Effective water storage capacity
4,000,000m3
Dam operator
Mie prefecture (Kinki area)
Main body constructor
Nishimatsu Construction
Name of Dam Lake
Lake Ise
Year of launch
1963.
Year Completed
1966
Access to D@M
Turn left at the traffic light after getting off at the Seiwa-Taki IC of the Ise Expressway.
The rest of the way is National Highway 42 toward Owase.
After passing through the roadside station "Okuise Oodai",
At the "Odai Police Station" traffic light intersection, turn onto Prefectural Route 31.
Turn left at the first traffic light.
Other facilities/observations
Parking lot
×
The park is like a rough and tumble open space.
There is no parking lot, but the area near the left bank is a bit wide, so you can park here.
Toilet
×
Park
○
PR Exhibition Hall
×
Fishing
?
Accommodations that may be close to the Miseya Dam